Secured loans and mortgages in the UK are classified by the Financial Conduct Authority (FCA) as either regulated or non-regulated.
A bridging loan is regulated if the property it is secured on is, or will be, your main home or residence.
What is a Regulated Bridging Loan?
Bridging loans are popular with property investors and developers as they can be arranged quickly and for almost any purpose. The loans will always be for a short term, this is the essence of a bridging loan.
A bridging loan will be regulated if the loan is secured against a property which the borrower currently occupies or intends to occupy.
For regulated loans the maximum term is normally 12 months.
If the reason for the bridging loan is to raise money for business purposes (eg property investment or development) then this is classed as non-regulated.
A regulated bridging loan can be either a 1st charge loan or a 2nd charge loan. Regulated bridging loans are overseen by the Financial Conduct Authority (FCA) and fall within the same regulations as a residential mortgage. This provides consumers with protection from mis-selling.
When would you use a regulated bridging loan?
One of the most common reasons would be to break the property chain when buying and selling homes.
The bridging loan will be used to access some of the equity in the house you are selling enabling you to 'move' this money earlier in the process to complete the purchase of the new property. Once sold the proceeds from your house sale will pay of the regulated bridging loan.
Regulated bridging loans can help with
Downsizing
Divorce settlement
Chain break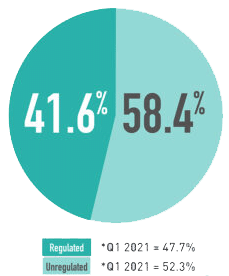 According to Bridging Trends 41.6% of bridging loans arranged between April & June 2021 were regulated.
If you have any questions concerning bridging loans please contact us.
Our brokers will be very happy to help you.
Call 020 8301 7930
contact us
How much can you borrow?
Bridging finance is more flexible than other types of borrowing, even when regulated so there is no strict cap on the amount you are able to borrow. However, the lender will make an assessment based on the property value and your own financial status.
Generally, loans of 75% of the property valuation should be achievable but 100% bridging finance is also possible for some clients.
Who can apply for a regulated bridging loan?
As loans are based around your own home, applications can only be accepted from UK residents.
What are the monthly repayments?
Bridging loans are almost always set up on an interest only basis.
For regulated loans most lenders will not require any monthly payments. Loan interest is added to the mortgage balance each month and is repayable at the end of the agreed term, along with the initial sum borrowed.
When you know how you are going to pay back your bridging loan, and more importantly when, then a closed bridging loan is a cheaper option.
Open bridging finance is offered without knowing the exact date of repayment. Due to this uncertainty the lender will charge a slightly higher interest rate than for a closed loan.
How do you pay off the loan?
By definition bridging loans are only set up for short periods and most regulated bridges will be for a maximum 12 month duration.
When you apply, the lender will ask about your exit strategy. i.e. How will you be paying back the loan? They will need to see some evidence of your exit strategy to confirm that it is acceptable and achievable.
If you intend to repay the loan from a new mortgage then they are likely to ask to see a Decision in Principle (DIP).
With bridging finance it is important you enter into the agreement with a clear idea of an exit strategy to repay this debt.
What are Unregulated Bridging Loans?
Unsurprisingly unregulated loans are ones that are not connected to your main residence.
This could be:
Buying a new property before the sale of another property
Financing refurbishment or conversion works
Fund a new business
Buying some land
Buying a commercial property
All bridging loans are for relatively short periods; 3 months to 36 months. So whether they are regulated or unregulated you need to be clear about your exit strategy.
EXAMPLE – HOUSE PURCHASE
Mr & Mrs Smith own a property and now wish to move to a larger home as they wish to have a family.
They found the perfect property to move to but needed to act quickly to secure it.
However, as their current property was tied up in a long chain it could jeopardise the purchase.
The solution
Their mortgage broker suggested using a regulated bridging loan to provide the funds they needed to buy their new house before they had sold the current one.
The bridging loan was used to access some of the equity they had built up and this along with the new mortgage enabled them to complete the purchase.
The regulated bridging loan, along with the interest, was then fully repaid once their house sale had gone through.
About the Author
More by this Author
Speak to an expert about BRIDGING LOANS
We can provide expert guidance and solutions for bridging loans whether they are regulated or unregulated. With over 20 years experience we are well placed to assist all home buyers and property investors.
Call 020 8301 7930 to start your journey with us.