It is estimated that 4.8 million people in the UK are self-employed. This equates to a fairly substantial 15% of the working population.
Furthermore, with self-employment offering so many benefits, including enhanced flexibility and more control over your future plans, this is one trend that is only set to grow in the next few years.
That being said, there can be some downsides to being your own boss, with one of them being inconsistent earnings that do not always work in your favour when it comes to securing a mortgage.
However, before you resign yourself to a lifetime of renting, you should know that self-employed people are securing mortgages every day. You just need to make sure that you know the process and that you have all the necessary paperwork so that you have the best chance of success.
Not sure where to start when it comes to getting a mortgage when self-employed?
Within our BIG guide, you will learn everything there is to know about self employed mortgages and be more than ready to apply for your self-employed mortgage loan.
What is a self-employed mortgage?
While you may think that there are separate mortgages for people who are employed and those who are self employed, the truth is that the mortgages are exactly the same. What differs is the assessment and application process.
For example, as a self-employed worker, it can be more challenging to pass a lender's affordability test, especially if your income fluctuates from one month to the next.
There used to be such a thing as a self-certification (self-cert) mortgage which allowed people to borrow money on a property without proof of income, but these are no longer available. Now your mortgage is calculated using only the income you can prove.
Instead, if you want to apply for a mortgage as a self-employed person now, you have to provide proof of your income before you are approved.
However, despite the process of applying for a mortgage being a little more tricky, don't let this put you off, as there is no reason why you shouldn't be accepted if you have all your paperwork in order.
Will I get a mortgage being self-employed?
While there is no guarantee that you will get approved for a mortgage, this is the same for everyone, self-employed or otherwise.
As a general rule, mortgage lenders tend to look at whether a person owns more than 20-25% of a business from which they earn their main income.
Furthermore, it will depend on what your self employment status is.
Typically the self-employed fall into one of five categories:
1. Sole traders
If you are a sole trader, you will be asked by lenders to declare your full income using a tax assessment return, known as the SA302 form. Using this, the HMRC will calculate your tax, and lenders will determine your suitability for a mortgage.
You will need at least 12 months of trading history to get accepted for a mortgage, with most providers wanting to see the last three years.
As a sole trader, you will find that specialist lenders are much more flexible and will be in the position to offer you better mortgage rates.
2. Partnerships
If you own a business with a partner, lenders will assess your individual ownership in the business in relation to the business's profits. They will also access your self-assessment tax form as above.
As a general rule, you need to be able to show proof of income for at least 12 months of trading if you want to be approved for a mortgage as a partnership business. However, many lenders will ask for between 2-3 years' worth of accounts. Therefore, you should be prepared for the latter to be asked of you, just in case.
3. Limited companies
If you own a limited company, you are classed as both a business owner and an employee. As a limited company director this means that you probably allocate yourself a yearly PAYE salary and also declare variable dividend payments based on how much profit the company makes.
In this case, lenders will consider both your salary and your dividend payments when making their decision.
Again, ideally, you should have been trading for over three years if you want to be accepted for a mortgage, but some lenders will consider less. A little research into which lenders will consider those with shorter business lifespans will save you from application rejections.
If you tend not to take the full dividend possible each year then you will have built up some retained profit within your business. There are some lenders that understand this scenario better than others in terms of utilising it for the mortgage affordability calculations.
You may like this related article: Can you get a mortgage using retained profits?
4. Contractors
If you are a contractor, most lenders will analyse your total contract value or your day rate. If it is the latter, they will times your day rate by five days a week and the number of weeks you have worked to determine your income.
However, some lenders look at contractors as directors of a self-employed limited company.
Lenders may still lend to contractors even if:
They have gaps between contracts
Have contracts with a value under £50,000
Do not have a contract end date as long as you have a 12-month record
5. Freelancers
Freelancers often fall between employed and self employed status. This can make the mortgage process a little more confusing. As a freelancer, you are likely to be hired to work for different companies on specific jobs, and there are currently over 2 million freelancers in the UK.
As your income is likely to fluctuate from month to month, a lender will focus on your latest income and the way that you freelance. If you have no or little work coming in, you are unlikely to be approved. However, if you can prove that your income is stable and that you can afford the repayments, you should be able to get a good deal.
Most lenders will want three years' worth of income history, but some may consider less. If you already have contracts in place for future work, this can significantly help to boost your application. If you haven't, ask the companies you are freelancing for if it is possible to get one in place. Bear in mind, though, that it might take some time for this to happen, as you need the business to trust in you. Providing high-quality work and delivering work on time should be your focus.
When is a self-employed person not self-employed?
When they are a CIS subcontractor!
A CIS mortgage uniquely allows a registered sub-contractor to be treated as an employee for the purposes of working out their mortgage. Their gross annual income is used, as opposed to a net profit or self assessment figure.
This makes a big difference to the amount you can borrow.
Not all lenders are happy offering CIS mortgages, so it's important to do your homework and seek advice from a mortgage broker.
If you are self-employed or a business owner then let one of our experienced advisers answer your mortgage questions.
contact us
How has the pandemic affected self-employed mortgages?
While you can still get a mortgage if you are self employed, the coronavirus has affected the number of mortgage deals that are available. Most notably, most lenders will now ask for a larger deposit than they did prior to the pandemic, and you will need to have a good credit score to be approved.
If you have a mortgage and you are worried about making your repayments, there is support available at GOV.UK.
This includes:
Support for mortgage interest if you claim a benefit such as Income Support or Universal Credit
Why won't mainstream lenders consider my application?
If you have already approached several high street lenders and have been turned away, you may be wondering if this is because you are self-employed.
Many mainstream lenders have very strict eligibility criteria that you need to pass before they even consider lending to you. One criteria is proof of income which can be harder to deliver when you are self employed.
It could also be because of your credit file which shows what debts you have and any that are late or unpaid.
Can I get a mortgage with retained business profits?
If you choose not to pay yourself the full amount of profit share each year from a limited company you will have built up some retained profits which are shown in your annual accounts.
You may be wondering whether you can use these earnings to get a mortgage.
Many lenders will not factor in these retained profits when assessing your income. An Independent Mortgage Adviser will be the best person to help you, they will specialise in company director mortgages and have access to the lenders that will look to include any retained profits.
How do I apply for a self-employed mortgage?
Before you start looking into potential lenders, you first need to make sure you have all the relevant paperwork and information at your disposal.
For a self-employed mortgage, you will typically need:
A full SA302 form from the previous two to three tax years
Certified business accounts from the previous two years
Documentation of any dividends paid
Documentation of any upcoming contracts
You will also need to provide:
Your passport
Your driving licence
A council tax bill
Utility bills dated within three months
Six months' worth of bank statements
While examining your bank statements, lenders are likely to ask about aspects of your finances such as travel and commuting costs, childcare, holidays, credit card repayments, loan repayments, and socialising.
How to get your SA302
If you have an accountant, you can ask them to get your SA302 form for you. If you do your own accounts you will need to log in to your HMRC online account and print it out.
Read more on SA302 Tax Calculation and how to get one.
How many years of accounts do you need?
If you have not been self-employed for very long, you may struggle to get a mortgage. This is because most mortgage lenders will require a minimum of two years of accounts before they will consider your application. Some will even ask for three years.
The reason for this is that, as you have no employer to show how much you earn each year, they need to feel confident that you can afford your mortgage payments and that you are in a secure and stable financial situation.
Can I get a self employed mortgage with no accounts?
It's unlikely any lender will approve a mortgage application without any accounts. The lenders need to undertake affordability checks which is only possible with proof of your income.
Is a Self-Employed Mortgage Based on Gross or Net Profit?
An employed borrower will use their gross income when applying for a mortgage. But what's the equivalent for a self-employed person?
Net or gross, before or after tax? It can get quite confusing.
You should use your personal gross income figure, before personal tax. Read more.
How much can you borrow with a self employed mortgage?
As mentioned above, a self-employed mortgage is no different to a mortgage for an employed person, so the exact amount that you can borrow will be dependent on the size of the deposit you have and your current income.
Your credit history will also affect how the lender assesses your application.
Typically, when lenders are looking at how much you can afford, they will base it on:
Your average income over 2-3 years
The largest amount on your most recent year of trading
Do self employed people have to pay higher mortgage rates?
No.
As long as you are able to supply sufficient information about your income and prove that you can make the monthly repayments, you should be able to qualify for the same mortgage rates as an employed person in the same situation.
Your credit score and the size of your deposit are also important aspects of securing the loan you need.
If you are struggling to be approved by a high street bank, you may be better off looking for a lender that specialises in lending to self employed people. An Independent Mortgage Broker like ourselves would be able to offer some suitable alternatives.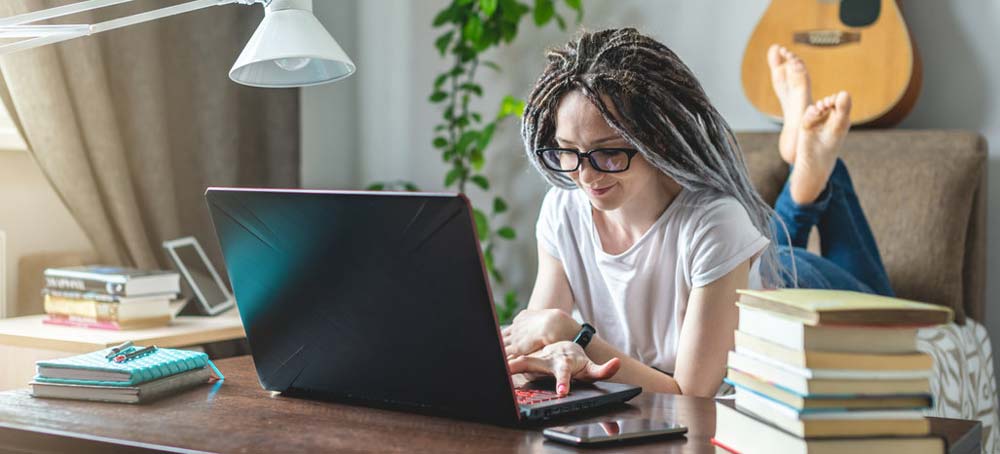 Why is it harder to get a mortgage when you are self employed?
There are several reasons why sometimes it can be harder to get a mortgage when you are self-employed, including:
Your income is harder to prove to lenders
Your income is likely to fluctuate
Your job is seen to be less secure
Can I get a mortgage if I have been self-employed for one year?
While most lenders will ask for between 2-3 years of accounts to qualify for a mortgage loan, there are some lenders that will lend to those who are unable to meet the usual criteria.
If you have been self-employed for a year, you should speak with a mortgage broker as they will be able to help you find the best rates and maximise your chance of success.
It is important to know that just because your bank turns you down for a mortgage, that doesn't mean that you won't be able to find a reputable lender.
Once you have secured your self employed mortgage, that doesn't mean the entire mortgage process is over. It is highly likely that, at some point in the future, you are going to want to re-mortgage, and mortgages are available.
How can I increase my chances of being approved for a mortgage?
There are several ways that you can increase your chances of being approved.
These include:
Make sure that you are on the UK electoral register
Acquire a healthy deposit
Avoid properties such as flats above shops or commercial premises
Improve your credit rating by paying off old debts
Use a qualified accountant for your accounts
Make sure you have all the necessary paperwork
Enlist the help of a mortgage broker
Curb your spending on non-essentials
Be honest with your broker or lender
Self employed mortgage pitfalls
As well as following the above top tips for getting a mortgage as a self-employed worker, it can also be a good idea to avoid the common pitfalls that often catch borrowers out.
These are as follows:
1. A reduction in your taxable income
If you or your accountant have used legitimate techniques to reduce your taxable income, you should know that this can work against you when it comes to getting a mortgage. This is because lenders will be using this lower figure to calculate how much they can lend you. Therefore, the higher your taxable income, the more you should be able to borrow.
2. Not including all your income
If you are self-employed, but you also earn money through the PAYE system, you need to speak to your lender about how they are viewing your income. Make sure that they are not only considering your income from self-employment but also any other income you receive.
3. Not registering to vote
Many lenders include being on the electoral register in their background checks, so you need to be 100% sure that you are registered to vote. You can check this at The Electoral Commission.
4. Shop around
You may be jumping for joy as soon as you get offered a mortgage, but that doesn't mean you shouldn't take the time to shop around for the best deals. If you are concerned that you are not getting a good rate, you may want to ask an independent mortgage broker to help you.
5. Limit your outgoings
If you love life's little luxuries and you have a lot of extravagant expenses such as expensive gym memberships and food delivery subscriptions, then now might be the best time to cut these back.
How to pay your mortgage
Once you have a mortgage, the hard work doesn't stop. You now need to actually pay for it. If you struggle to keep up with the repayments on your mortgage, you should not bury your head in the sand.
Instead, you should:
Speak with your lender as soon as possible
Ask to extend your mortgage term
Switch to an interest-only mortgage so you can pay less each month
Change your payment plan for an agreed time
Take a mortgage payment holiday
If your income fluctuates and you find yourself earning more, you can also ask to make overpayments. This will allow you to pay more for an agreed amount of time, or you can choose to pay one lump sum.
How to choose a mortgage broker
If you have already been looking for a mortgage, but you are struggling to find a good deal as a sole trader, you may want to enlist the services of a specialist mortgage broker that has experience in this area.
The right broker will have useful knowledge of which banks and building societies are more willing to lend to people who are self-employed, as well as those that offer the best rates.
Here at Drake Mortgages, we have over 25 years of experience in the mortgage business and are dedicated to finding our clients the best mortgage deals. As an independent mortgage broker, we are not restricted to a small selection of providers and can instead scour the market for the best deals for our self employed clients.
Whether you have been turned down already or you don't know where to start when it comes to getting a mortgage, our friendly and knowledgeable team is ready and waiting to help you find the best deal.
Get in touch today and let us help you get a yes rather than another no.
About the Author
More by this Author
Sean Horton is a co-owner of Drake Mortgages and has worked in financial services, mortgages and insurance since 1988. Previously a financial adviser and a mortgage broker, he regularly writes about mortgages, bridging loans and commercial finance.
Speak to an expert about SELF EMPLOYED mortgages
We can provide expert guidance and solutions for sole traders, partners, directors and freelancers. With over 20 years experience we are well placed to help with all of your mortgage needs.
Call 020 8301 7930 to start your journey with us.